Oreo Peppermint Crunch Cookie is amazing
Christmas is just around the corner and families are beginning to get into the holiday spirit. These amazing cookies are sure to keep the holiday spirit thriving this winter. With a little trip to the grocery store, this is a recipe for the books.
Oreo Peppermint Crunch Cookies
Prep Time: 20 minutes
Cook Time: 10 minutes
Total Time: 30 minutes
Yield: 24
INGREDIENTS
1 box white cake mix
8 tablespoons unsalted butter, softened
1 large egg
½ teaspoon peppermint extract
½ teaspoon vanilla extract
4 ounces of cream cheese, softened
1 cup Oreo cookie chunks
1 cup Andes Peppermint Crunch pieces
½ cup dark chocolate chips
INSTRUCTIONS
Combine the cake mix, butter, egg, extracts, and cream cheese. Mix until a soft dough forms.
Stir in the cookie chunks, peppermint crunch pieces and chocolate chips gently. Refrigerate the dough for at least 30-60 minutes. The longer, the better. The dough should not stick to your hands when you roll it.
Preheat oven to 350 degrees.
Scoop or roll the dough into 24 balls. Bake on a cookie sheet for 10 minutes. Do not over bake. The cookies will b very soft and look undone.
Let the cookies sit on the hot cookie sheet for 2-3 minutes, then gently remove them with a metal spatula to a piece of parchment paper on the counter.
Very gently tap the tops of the cookies with the bottom of a flat spatula to even out the tops. Let them sit until completely cool. Store in a sealed container.
SUGGESTIONS AND OPINIONS
The author of the recipe, Jocelyn Brubaker, mentioned that Pillsbury and Aldi cake mix works the best for this cookie. She also stated that the cream cheese and butter should not be too soft, or the batter will have to cool for a longer amount of time. I had trouble finding the Andes peppermint bits, so I grabbed a bag of Brach's Crushed Candy Canes. With that being said, the candy canes melted in the cookies. It did not make a huge difference, but it is something to think about for the aesthetic. Overall, the cookies turned out great. They are soft and have so much flavor packed into them. I recommend making these with your family or friends when you get the chance.
Brubaker, Jocelyn. "Oreo Peppermint Crunch Cookies." Inside BruCrew Life, 28 Nov. 2020, insidebrucrewlife.com/oreo-peppermint-crunch-cookies/.
About the Writer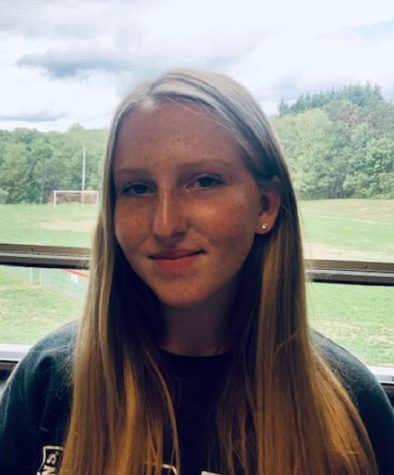 Morgan Cheek, Staff Writer
My name is Morgan Cheek, and I am a senior this year. I enjoy playing softball and volleyball. During my free time, I like to hang out with my friends...