Simple brownies with a twist
Brownies are one of the easiest and most traditional baked goods that people make. They are usually made out of a box out of convenience but people do not realize how much making them from scratch improves the taste. This recipe takes boxed brownie mix and puts a little twist on it which takes the brownies up to a whole new level.
To make these brownies you will need:
• ¾ cup all-purpose flour
• 1 cup granulated sugar
• ¾ cup unsweetened cocoa powder
• ½ cup brown sugar
• ½ teaspoon baking powder
• ¼ teaspoon salt
• 4 ounces bittersweet chocolate (chopped)
• 1/3 cup milk
• 6 tablespoons butter
• 1 teaspoon vanilla extract
• 2 large eggs
• ½ cup walnuts (chopped)
Instructions:
1. Begin by preheating your oven to 350 degrees and coating your pan with nonstick cooking spray
2. First combine the flour, sugar, cocoa powder, brown sugar, baking powder and salt in a large mixing bowl, setting aside for later
3. Next, place 2 ounces of bittersweet chocolate and the milk in a small saucepan and place over low heat for 1-2 minutes. Then add the butter and stir until completely melted.
4. Remove the pan from the heat and stir in the vanilla
5. Pour the melted chocolate mixture into the bowl with the flour mixture and stir until slightly combined
6. Next, add the eggs, remaining bittersweet chocolate and ¼ cup of walnuts to the flour mixture and stir until combined
7. Lastly, pour the batter into the prepared baking pan and sprinkle the remaining ¼ cup of walnuts over the batter
8. Place the pan in the oven for 20 to 26 minutes. When they are done, the edges should be solid but the center will still appear soft.
9. After they are removed from the oven, let the brownies cool before cutting and serving them
10. Enjoy!
Some helpful tips:
• Be careful not to overmix the brownies, as it will add too much air into the batter which will lead to a change in texture.
• Brownies continue cooking after you remove them from the oven. So if you are testing if they are done with a toothpick, remove them once moist crumbs are sticking to it, if you wait until there no crumbs you risk overcooking the batch.
• Dark pans are the best pans to cook brownies in because glass Pyrex dishes are thicker and can lead to unevenly cooked batches.
This recipe is from "Fromvalerieskitchen.com". On this website you can find recipes for baked goods, appetizers, main dishes and many more. You can also find many tips and tricks for baking, which includes tutorial videos for all sorts of recipes. As always, try this recipe out and let me know what you think!
About the Contributor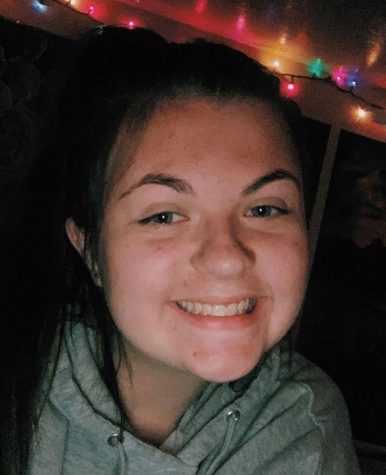 Kendyhl Luzier, Staff Writer
Hello, my name is Kendyhl Luzier and I am a senior. I am a part of the girls tennis team and enjoy baking, photography and watching movies in my free time.