How to order a Yearbook
Have you ordered your yearbook yet? This year there are some added features that you will not want to miss. In years past, a yearbook club allowed for students to get the opportunity to help layout the yearbook. This year, the yearbook is being laid out by the advisors, Ms. Wingate, Mrs. Bender, and Mrs. Komonczi. Ms. Wingate, one of the advisors, says that they have had a few students who have helped gather pictures needed for the yearbook. These students are Olivia Rowles, Mackenzie Wingate, and Madilyn Mackey.
In addition, to order the yearbook you must go to www.jostens.com. It is important to pick Clearfield PA and not Utah as they also have the same town name. Ms. Wingate says that anyone who wants a book and would like to make payments through the club, can stop by room 207 and something can be arranged.
A new feature we have is called Yearbook Plus, says Ms. Wingate. Each student in the school has the opportunity to upload between 1 and 10 pictures that will attach to their portrait digitally. A QR code will be provided. When students snap the code, all additional pictures will be displayed on the portrait page. Ms. Wingate then states: "Students need to go to www.ybkplus.com to begin. They will need to put in their school email address to get a code to verify who they are. It will take them to the site where they can share the pictures."
The yearbook this year is completely online due to many activities and events being cancelled. A yearbook is always a good purchase because it will always be there for you to look back on to remember your high school years," says Ms. Wingate. She says that many people are still calling about old yearbooks in hopes that they can still purchase them. For example, she says "We just found a copy for a woman who wanted to surprise her husband with the one from his graduation year 1971. He never purchased one in school and was wanting to look back on his high school years." The yearbook is an opportunity to keep the memories forever.
About the Writer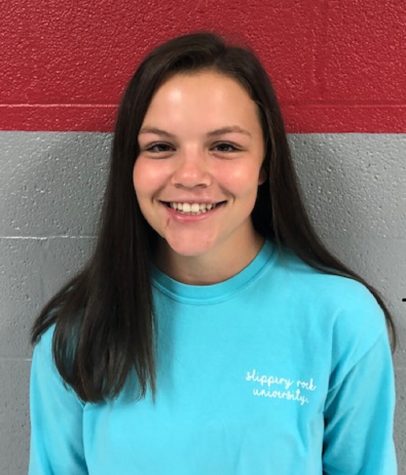 Christina McGinnis, Staff Writer
My name is Christina McGinnis. I am a Junior at Clearfield High School. I am involved in golf and  this year is my third year as a member of the Golf...