Megan Durandetta Breaks 3-point Record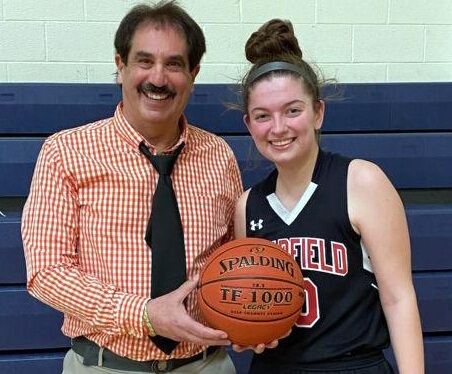 On Wednesday, February 24, Megan Durandetta broke the Clearfield Lady Bison Basketball career record for 3-pointers. The game was hosted by DuBois Central Catholic, where Clearfield won 56-44. Durandetta broke the record that was previously held by Amanda Swanson since 2000 with 161 career 3-pointers. Megan now holds the new record with 163 3-pointers after playing the Lady Cardinals.
Megan has been playing basketball for 6 years, beginning in the 7th grade. Megan started playing basketball after hearing the morning announcements saying there were sign-ups happening, and she wanted to try something new.
Throughout her freshman season, Megan was able to score 48 3-point shots, making it clear to both her and Coach Castagnolo that it was very possible for Megan to break the career 3-point record, making it one of Megan's many goals for her Lady Bison Basketball career. When asked what it felt like to break a 21-year-old record, Megan said: "To break a 21-year record is still hard to believe, but I am so proud of myself.  It feels so good to finally reach my goal and be able to have my name in our school's history for girls' basketball."
Megan plans to continue playing basketball at the collegiate level for Penn State DuBois.