Varsity Bison baseball begins 2020-21 season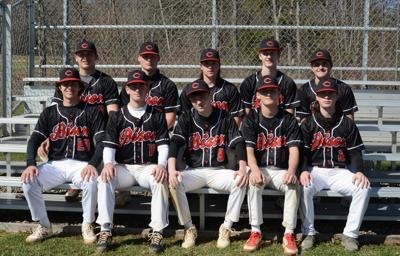 The Varsity Bison Baseball season has started but was sadly altered by COVID and the weather. This year's seniors are: Matt Bailor, Hunter Dixon, Nick Domico, Karson Rumsky. The varsity team started their season playing two scrimmages. The first was at DuBois Central Catholic on March 20, 2021. The second was at Bellwood-Antis High School on March 23, 2021.The Clearfield Bison played their first varsity game on March 30, 2021 at Central H.S. The final score was 10-0 with the Bison taking a loss.
Coach Billotte said the baseball team is most looking forward to "Playing! After having last year's season cancelled due to COVID, we are excited to get back on the field and get the opportunity to compete. With our season starting with four road games, we are very much looking forward to our first home game on April 9 against Indiana Area H.S."
Spectators are allowed at the games but must be socially distanced. The team faced a big challenge this year, said Coach Billotte, "The biggest challenge we are facing is overcoming not having a season last year. Our players lost a valuable year of experience at the varsity level. That is a whole season worth of practice time and game play that cannot be replaced."
While the team works to overcome some setbacks in this past year, the team also possesses several positive factors. Coach Billotte says strengths that the team has this year are the positive team attitude and morale.
The 2020-2021 Varsity Baseball schedule and this year's record can be found here.