NHS inducts 2020 and 2021 members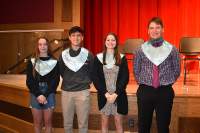 This year, two different groups of students from the junior and senior classes were inducted into the Clearfield High School Chapter of the National Honors Society. Due to the start of the COVID-19 pandemic last year, the 2020 inductees in this year's senior class did not have the opportunity to have a formal induction ceremony. Thankfully, a ceremony was held for them on April 14 of 2021.
The 2020 inductees also had the opportunity to elect the NHS officers for this school year prior to the ceremony. The elected officers are Nick Domico as president, Emily Hanes as vice president, Crae Ruiz as secretary, and Sydney Salvatore-Trinidad as treasurer.
Members inducted for 2020 are as follows:
Nicolas Domico, Emily Hanes, Crae Ruiz, Sydney Salvatore-Trinidad, Haden Allison, Luke Ammerman, Matthew Bailor, Rylee Biancuzzo, Karli Bietz, Ian Billotte, Catara Casher, Morgan Cheek, Micah Climie, Rylie Dillon, Hunter Dixon, Dakota Dufour, Megan Durandetta, Cassie Eamigh, Alycia Edwards, Allyson Gaines, Hunter Hale, Ally Hamm, Garrett Hamm, Justin Hand, Lindsay Hartline, Amanda Hazel, Madisyn Hess, Troy Hess, Katelyn Hetrick, Katelyn Hullihen, Alexus Humenay, Taylor Humenay, Chelsea Ippolito, Jamie Irwin, Gavin Knapp, Jacob Lezzer, Landon Libreatori, Benjamin Luzier, Kendyhl Luzier, Abigail McCracken, Amanda McCracken, Christina McGinnis, Zoe McGonigal, Charlise McSkimming, Alexia Mick, Everett Miller, Joscelyn Narehood, Shawna Nevling, Ryan Norman, Michael Odrosky, Rachel Owens, Matthew Pallo, Dana Peteuil, Jason Plubell, Paige Rhine, Gabriel Rose, Karson Rumsky, Nicholas Ryan, Jason Stanko, Anthony Strickland, Kirstie VanTassel, Kylie VanTassel, Seth Visnofsky, Luke Winters, Summer Wynn, Ethan Yarger.
The 2021 NHS inductees had their formal induction ceremony on April 28. These inductees will not have a chance to elect their officers until the beginning of the 2021-2022 school year.
The 2021 inductees are as follows:
Nolan Barr, Olivia Bender, Alexis Benton, Oliver Billotte, Christopher Blowers, Albany Clark, Hunter Cline, Erick Conaway, Shane Coudriet, Kyle Elensky, Justin Fletcher, Luke Freeland, Ryan Gearhart, Graeson Graves, Emmalynne Groth, Kylee Hertlein, Cassandra Hipps, Emma Hipps, Karson Kline, Alex Lansberry, Benjamin Leighow, Kinser Mayhew, Paige McCaulley, Mark McGonigal, Adam Miller, Tyler Olson, Isaac Owens, Maxwell Paul-Cook, Kira Pelton, Makenzie Potter, Emma Powell, Blake Prestash, Kayla Reed, Lauren Ressler, Anna Rowles, Megan Rowles, Elizabeth Ryan, Hannah Salvatore-Trinidad, Luke Sidorick, Jayden Strathen, Ty Troxell, Abigail Turner, Riley Vaow, Madison Wanamaker, Caleb Wilt
About the Writer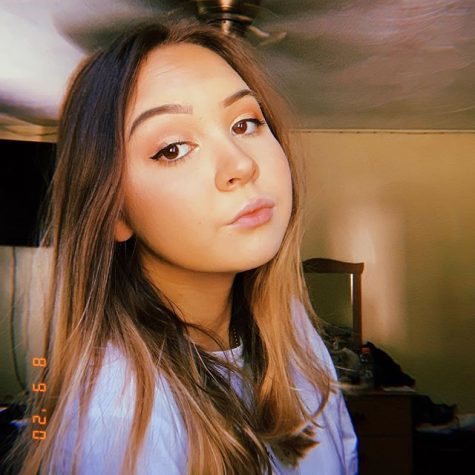 Summer Wynn, Staff Writer
Hello! My name is Summer Wynn and I am a senior in high school. In my spare time, you can find me buying sneakers to add to my extensive collection, working...