Bender selects the red rose at homecoming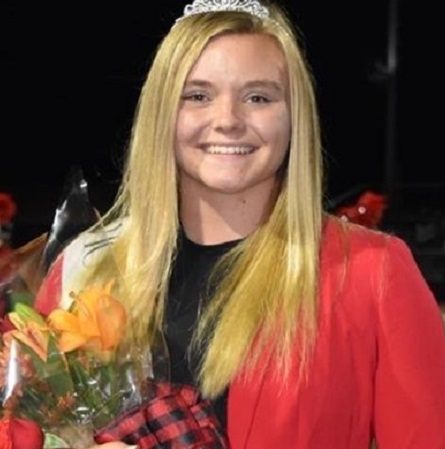 This year's Homecoming election was held during the Friday night football game on September 10, 2021, where senior Olivia Bender was crowned queen.
The Homecoming court consisted of Olivia Bender, Lydia Brown, Alexis Bumbarger, Albany Clark, Kylee Hertlein, Mallory McBride, Paige McCaully, Jordan McCracken, Elizabeth Ryan, and Hannah Salvatore-Trinidad.
The girls were directed to pick a random rose out of the vase during halftime, that our previous 2020 Homecoming queen Rylee Biancuzzo was holding. After each girl took a rose and lined up, they were instructed to open them all at the same time.
Mrs. Smay, formally Ms. Coletta, put together the whole thing with the help of the band as well as Mr. Yingling.
When the girls opened their flowers Olivia Bender had the odd rose, granting her the honor of becoming homecoming queen.
"I was very surprised that I won since I picked the first flower but at the same time, I was super excited and still am that I won," said Olivia. Olivia said she always wanted to be a part of the homecoming court.
"I liked spending time with all the girls and participating in spirit week," explained Olivia, adding that it was a great opportunity and a once-in-a-lifetime experience.
Olivia said her biggest help in this process was her mom. She also described "In elementary school, I hoped to be involved in as many school activities as I could be which I felt like I've done."
Olivia's future plans are to attend college and one day own a real estate agency. She also adds, "I think that this was a great experience for me and my friends and I'm very grateful I got to participate."