Mrs. Prestash comments on the new mask mandate
At the start of this school year, the students of Pennsylvania were told that they would be returning to school with the option of wearing a mask. Many people saw this as a good sign, and that a sense of normalcy would be restored. However, this mandate was soon reinstated due to rising cases of COVID-19. Here is what Mrs. Prestash, the principal, had to say about this new mandate:
Q: When did this mandate come into effect?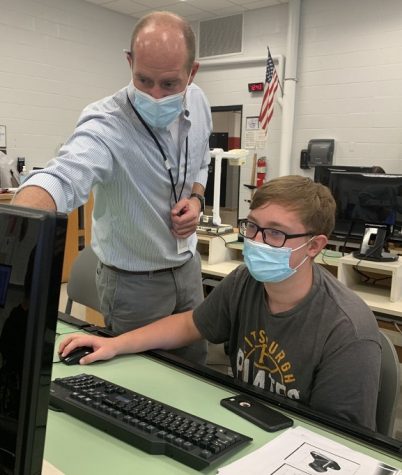 Mrs. Prestash: "On Tuesday, August 31, Pennsylvania's Acting Secretary of Health signed an Order requiring face coverings to be worn in all school entities, including school districts, brick and mortar and cyber charter schools, private and parochial schools, career and technical centers, intermediate units, and early learning and other child care settings, effective Tuesday, September 7, 2021 (education.pa.gov)."
Q: Why did the mandate come into effect after the school year started?
Mrs. Prestash: "The mandate was signed on August 31st after we started school. According to a press release from Gov. Wolf's office, Wolf Administration Requires Masking in Schools, Early Learning and Child care Settings to Keep Students Safely In Classrooms and Delta Variant Out, the mask mandate is due to the delta variant which is highly transmissible to the unvaccinated, many of whom are children too young to receive the vaccine. Requiring masks in schools will keep students, faculty safer and in the classroom."
Q: Where are masks located for those who need one?
Mrs. Prestash: "Every classroom and office has masks for students to access."
Q: Where should masks be worn and where can they be taken off?
Mrs. Prestash: "While indoors masks should be worn except when eating or drinking, outside, physical education class or while participating a sport. Mask breaks can also be given by classroom teachers if situations allow for it i.e. proper spacing or if a class goes outside. Students can ask for a mask break if needed by speaking with the teacher."
Q: How has the mandate affected students?
Mrs. Prestash: "I believe students and faculty were excited for the return of all students to the building and not having to wear masks at the beginning of the year. However, we also know from the past year and a half that things can change quickly. We may not like the mask order but as a government entity, we must follow the mask mandate from the Governor. I think we need to focus less on the masks and more on what we do have this year that we didn't last year. We are all here together this year, every day. We are trying to do things more like 'normal' such as having dances, bringing back activity period this year so clubs can meet, sitting next to your friend in the cafeteria instead of a sea apart, permitting school field trips when appropriate, etc."
What has the school done to ensure the mandate is upheld?
Mrs. Prestash: "We encourage all to bring their own mask daily, but if one forgets or needs it, a new mask is available to anyone who needs one."