New dress code changes reveal students' unique side
The hallways may be looking different this year, for the administration at Clearfield Area Junior-Senior High School has made new changes to the school's dress code. Colored hair and piercings are now permitted as school appropriate, along with holes in the jeans that are below fingertip length. This collective decision among administration has opened up new opportunities for students to express themselves. Mrs. Prestash, principal, has the following comments to offer in regards to the changes:
Q: Why were changes finally made to the dress code?
Mrs. Prestash: "Thinking of employable skills, at one time employers would not hire people with different hair color or piercings but that has since changed. Administration felt it was a change that should be made due to the shift with employment and to give students choice."
Q: Why might there still be opposition over the dress code?
Mrs. Prestash: "Honestly, I don't see why there would be any opposition to the dress code. For a long while students were not permitted to have different hair colors or piercings and that has now changed. All schools have a dress code, which sets out requirements relating to students clothing or appearance. We gave students more opportunities for self-expression and choice."
Q: How would you compare our dress code to the dress code in the schools in our area?
Mrs. Prestash: "All public schools have some form of a dress code. A dress code provides guidance to students and parents as to appropriate attire for school and any school function. I think our current dress code is now very similar to that of schools around us."
Q: When was the dress code last changed?
Mrs. Prestash: "It changes slightly every year but a major shift has been a while."
Q: What else would you like students to know about the general dress code?
Mrs. Prestash: "Students of the Clearfield Area School District must maintain personal hygiene, clean attire, and be modestly and appropriately dressed so as not to disrupt the educational process. Administration gave some leeway with the dress code so we expect all students to be respectful and adhere to the policy. Administration reserves the right to determine what is and what is not school appropriate attire."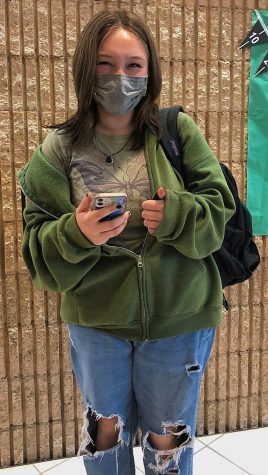 Throughout the halls of the high school, students can be seen taking advantage of the dress code changes by dying their hair unnatural colors, wearing their favorite pair of ripped jeans, or having piercings. One senior, Emmalynne Groth, shares how she felt the moment she heard of the new dress code changes: "I felt really excited that there was finally change considering I already had the piercing and the red hair, so I didn't need to change anything."
Self-expression is more prominent throughout the halls of school ever since the dress code changes. Logan Alger, a freshman, mentions the impact that the changes have on unique expression when stating: "I feel that the school allowing those things was a big step towards abolishing the limits and taboo around self-expression inside of school, and I like how they are beginning to recognize that there are bigger problems than whether I wear ripped jeans or not."