Mr. Struble discusses his job and vision for Clearfield Area School District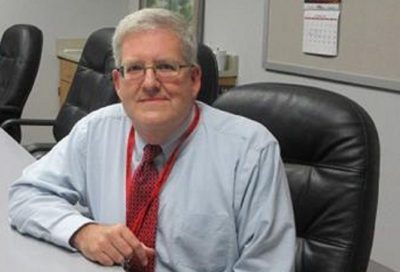 For The Stampede's annual question-and-answer-interview with Clearfield Area School District superintendent, Mr. Struble answered questions about the 2021-2022 school year and his experience being superintendent. For insight on his thoughts and ideas read his responses below.
Q: How do you feel about the upcoming school year?
Mr. Struble: "It is exciting to be back with everybody, every day. While for some it is a welcome return, we also recognize for others that it can be a challenge. Overall, we are hopeful that we can adjust to being around everyone again and start to move forward."
Q: What are you most excited about this year?
Mr. Struble: "The opportunity for our students to hopefully have a 'normal' school year with limited disruption to their school day and activities."
Q: What is your biggest concern this year?
Mr. Struble: "The ongoing pandemic continues to be the biggest concern. Its impact on our students and staff has varied greatly with some experiencing minimal impacts while others have experienced the loss of loved ones or time in the hospital."
Q: How long have you been superintendent?
Mr. Struble: "This is my 14th year as a superintendent. Nine of those years have been here and five in another district."
Q: What does your job look like day-to-day?
Mr. Struble: "The day to day is overseeing an operation that involves 2100 students and over 300 staff people. So with that comes a wide range of items that touch upon just about everything that happens in a school day. Additionally, there is the planning of what comes next and how do we prepare ourselves so that we can try our best to be prepared and ready to offer what our students need for their future."
Q: What motivates you in this job?
Mr. Struble: "Knowing that what happens within school really does have the potential to help our students and their families. As we create opportunities for the students to grow into what they want to do and become we have the potential to not only make today a good day, but help tomorrow be that as well."
Q: What would you say is the toughest aspect of your job?
Mr. Struble: "When we have instances where tragedy has occurred, and we are left searching for answers."
Q: In your time at Clearfield, what would you say your greatest accomplishment has been?
Mr. Struble: "If I take a short view of that, I would have to believe the efforts we have made to stay focused on student and staff health and well being over the last eighteen months. If I look over the past nine years it becomes a long list of things: the student opportunities our students have had and continue to have, the successful completion of the renovation projects that were in progress when I moved here, the continued dual enrollment program and what it offers kids, strong community relationships with a variety of partner agencies, but at the end of all of that is that we still try to keep our kids first in what we try to do."
Q: What is your vision for the school district?
Mr. Struble: "Once we can clear ourselves of the constant daily world of COVID, I would like to see us get to where we can address more on a personal level, the needs and hopes of each student and then to be able to tailor their school experience to what they need long term."
Q: What else would you like our readers to know about you as superintendent?
Mr. Struble: "The job is never easy, but it is definitely worth doing when you have great students and staff like we do at Clearfield!"