Bison Bistro raises money for future events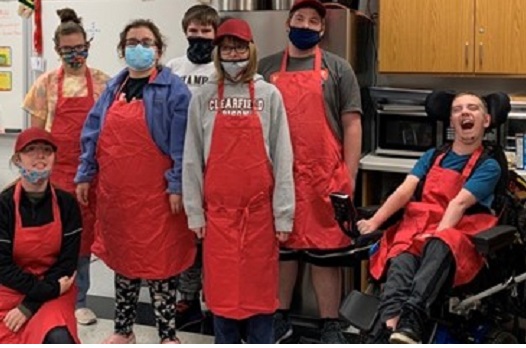 What is the Bison Bistro? If you're like many students, you may not know about this special project. Ms. Mease, the advisor of this project, offers all the details about this exciting opportunity for students.
Q: How would you describe the Bison Bistro project to those who are unaware of it?
Ms. Mease: "The Bison Bistro project started as a dream that I always had.  I wanted to start a classroom "restaurant" to teach my students important life skills that can help them in their future endeavors.  I started with getting approval from school administrators and then it took off from there!
"We started by coming up with our basic supplies and getting those ordered.  We planned our first meal.  We hand out order forms to the entire school staff and then collect the order forms by going around the school building.  This has helped my students with their social skills in such a big way!
"We do an average of 50+ meals during a serving and do one per month.  We plan, prepare, cook, and hand-deliver the meals to the staff during their lunch periods.  We also have the 'Coffee/Hot Chocolate Breakfast Cart' that we plan to start back up once the threat of Covid calms down so it isn't such a risk.  We serve coffee, hot chocolate, and breakfast foods to staff and students during the morning hours. This was a huge hit with students and staff when we had it up and running in 2019.  We hope to get it going again soon!"
Q: For the students involved, what is their favorite part about doing the Bison Bistro?
Ms. Mease: They really enjoy the interactions with the staff and like to serve the meals they help prepare. They take pride in their products!
Q: What do you do with the money you raise?
Ms. Mease: "Basically, the money we raise goes back into our club account to use for future meals, supplies, and equipment to keep our project going.  We have also used the profits to purchase new aprons and hats for our club members.
"We also like to give back to our customers by baking up sweets and passing them out.  We have a few projects that we would like to do over the holidays, both in our community and here at the school, to 'give back' to everyone who helps support us."
Q: Who organizes the Bison Bistro?
Ms. Mease: Ms. Mease and her staff:  Mrs. Mills, Mrs. McCracken, Mrs. Inguagiato
Q: How is the Bistro beneficial for the students involved?
Ms. Mease: "It is giving my students some learning experiences that will benefit them both now and in the future.  It has made a lot of them 'come out of their shells'.  It is building up their self-confidence.  It is also teaching valuable skills such as money skills, inventory, planning meals, smart shopping, food preparation, food safety skills, time-management skills, just to list a few."
Q: When did the Bison Bistro start?
Ms. Mease: "We got it up and running in October of 2018."
Q: Why do you sell the spirit ribbons?
Ms. Mease: "We wanted to come up with a way to spread some Bison school spirit."
Q: What's that money used for?
Ms. Mease: "We put it into our Bison Bistro Club account to use for needed supplies, equipment, and future projects.  We like to "give back" to our loyal customers, and have some activities coming up over the holidays, that we will be putting some of our profits into, both in the school and in the community."
Q: What other events do you have planned this fall?
Ms. Mease: "We have another meal serving coming up at the end of October.  We will have one in November, also.  In December, we may get our 'Coffee/Hot Chocolate Breakfast Cart' up and running.  We will continue to serve meals at least once per month during the school year.   We also have a special event that we are organizing for over the holidays for the staff.  Look forward to and be ready for our 'Coffee/Hot Chocolate Breakfast Cart' to be out and about in the near future!  We look forward to serving you!"
Q: Is there anything else you'd like to add?
Ms. Mease: "I would just like to personally thank all of the administration staff who have made this special project possible for myself and my students!  I really appreciate your support!  It means SO much to my students and it wouldn't be possible without all of you!"