Smith nets 94 to break record, then gets 100 a week later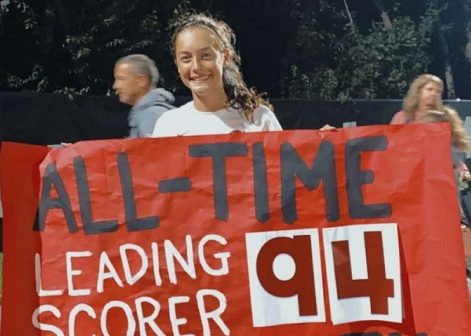 On September 20, 2021, Elle Smith, a junior captain on the Clearfield girls varsity soccer team, broke the record for the number of goals. The previous record was 93 goals held by Jennifer Martin. That night against Bellefonte, Elle scored 4 times; the last goal was number 94. It took her only 46 games to do this. To achieve something this spectacular a lot of motivation is needed. "I would say my dad mainly motivated me to break the record. He has always been there for me, and he has helped me find the motivation to reach the record," Smith said.
Only a week later on September 27, 2021, Elle hit the 100-goal mark. She is the first person to ever reach 100 at Clearfield. "Since I was a freshman, I always had it in mind that I wanted to be the first girl in Clearfield to reach 100 goals," Smith mentions. She hit this milestone at Curwensville, a school she used to attend. "Obviously, it would have been nice to reach the 100-goal-mark at our home stadium, however it was sort of bittersweet to achieve it at Curwensville, since I used to go to school there," Smith says. It took her 48 games to reach 100, which is an average of about 2 goals per game.
Head coach Todd Winters gave his opinion on Elle by stating: "Elle has had an outstanding fall season of soccer. Elle leads the Mountain League with 44 goals and is second in assists with 18.  Elle works year around on her soccer skills, pushing herself to improve constantly. This is Elle's second year being a team captain and she leads through example. Elle has also captured the all-time goal record at Clearfield Area High School with 118 goals and counting. Even with all her individual success, she is unselfish on the field setting up scoring opportunities for her teammates."
Overall, Elle Smith has had an outstanding career by breaking the record of goals scored at Clearfield, and by scoring 100. She is currently at 118 goals. Elle is expected to score many more considering that she is only a junior and there are still games left to play this year. "Now, I'm hoping to reach 50 goals by the end of this season, and I'm hoping for our team to win states this year," Elle says. She also mentioned that she plans on furthering her athletic career in college. "I am hoping to play soccer in college," Elle concludes.