Clearfield Arts Studio Theater performs chilling ghost story
The Clearfield Arts Studio Theater in downtown Clearfield is commencing the Halloween festivities with an eerie ghost tale called "The Legend of Sleepy Hollow." The play's script is written by Peter and Hans Bloedel and is a theatrical adaptation of the original novel by Washington Irving. Performances for "The Legend of Sleepy Hollow" were October 21-23 and 28-30 at 7:30 p.m. The cast and crew hoped to entertain and scare large audiences of people in the community. The play was directed by CAST board member Matt Hertlein. Looking inside of Matt's process for directing this show, it is evident that everyone involved wished to have their hard work shared with their community.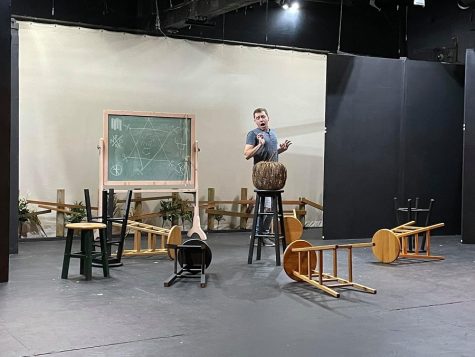 The decision to have this show was out of mere admiration for "The Legend of Sleepy Hollow's" frightening brilliance. Director Matt Hertlein informs "The Legend of Sleepy Hollow is widely regarded as one of the first American Ghost Stories. While stories of headless riders had existed before, mainly in Europe, Washington Irving used real events and locations. Namely, the story of a Hessian mercenary who was decapitated by a canon ball during the Revolutionary War, the real town of Sleepy Hollow, near Tarrytown, New York, and real names of people from the area (The Van Tassels and Ichabod Crane himself), which gave the story a unique authenticity. We chose it because it's the perfect story for Halloween!"
One major part of the director's process was setting the scene of the show. According to the director, "Our board president, Lew Duttry helped with designing the lights, along with my wonderful wife Amanda. Juliet Condon ran the light board during the shows. Dakota DuFour handled the sound creation and performances. Mason Strouse recorded some mustic for us to use as well." Even the people who cannot be seen on stage played a big role in creating a frightful scene for the audience.
Everyone involved has impeccable talent and an ear for what the director's expectations were for the show. Matt had his own idea as to what atmosphere he was aiming for. "We're going for setting a mood and letting the audience's imagination do the really scary stuff. I like to remind people of the movie 'Jaws'. Most of the tension and terror from that movie is created in the mind of the observer, because we never really get to see the shark. Once we do, it's not really as scary anymore. So, it's important to set the mood and allow the audience's own mind to do the heavy lifting." In the director's eyes, special effects only go so far, but the audience must make their own inquiries in order to experience how horrifying the story really is.
The actors rehearsed for this show four nights a week since the beginning of September and had constant guidance from their directors and choreographer. However, once the shows began, it was the actor's responsibility to put on the show, and the director had to take a step back. When asked what his expectation for the performances were, Matt expressed "The key to any good show, especially one produced in a community theatre, is that the cast and crew have fun with the material. That being said, the audience expects to have a professionally told tale and experience. For me, the real fun and reward of performing in the community theatre is giving the audience that professional-quality entertainment. The actor's and crew must take their roles seriously, and that to me makes it all the more worthwhile once the project is complete."