Scarlett Singleton Goes to States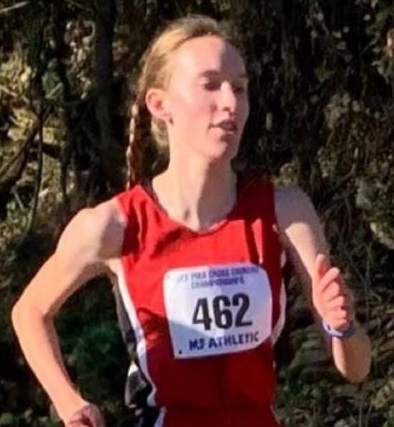 Scarlett Singleton, a junior at Clearfield Area Junior-Senior High School, headed to states in Cross Country this fall. Scarlett has been running track since she was in seventh grade and Cross Country since eighth grade.
How she got started is a funny story. Singleton states, "I wanted to run track ever since I was in sixth grade and was told I would be a great sprinter because I had long legs. So, whenever I reached seventh grade, I couldn't wait for spring so I could run track. I then heard of cross country, and I thought that it was just a fancy name for track. I joined thinking that's what it was, but I could not have been more wrong. I made up my mind too soon that running long distances wasn't my thing and didn't really stick with it that fall. However, I was shown that I was meant to run long distances during my seventh-grade track season, I went with the distance kids because some girl I knew was doing it and I found my love and passion for it ever since."
Her coach describes her as hardworking. "Ever since the school closure in the spring of 2020, Scarlett has focused on and worked on running to the point that she eventually saw that a trip to states was in sight. This year, I know her goal was to make of the course that day and some lingering leg pain were against her, but she had one of the best races I've ever seen her run and the whole team was very happy for her," states Coach Yingling.
Scarlett enjoys cross country. Her favorite aspect of the sport is its individuality. Singleton explains, "Everyone runs at different paces, so we all finish at different times and places. However, the more work we all put into practice, the quicker we are able to improve ourselves. For many sports, you are only as good as your worst player. But for cross country, you are as good as you push yourself to be."
With a love of the sport comes the negative aspects of it. Scarlett stated that her least favorite aspect of running is the focus on placing and winning instead of performance. Singleton explained, "Winning is nice and in any sport, you should have a drive to be competitive and want to make it out on top, but it's not everything. The hard work and dedication that is put into any sport is what's most important. I like the feeling of winning and getting the privilege to go to states, but if given the two scenarios, I would choose running my absolute best and get any place than just getting first place and knowing I could've done better. I found my love for this sport by focusing on how I raced than where I placed."
Through her years running cross country, she has made many goals for herself. Singleton explained that her original goal while running at Clearfield was to make it to states before her senior year. This goal was achieved this year, as a junior. Her new goal is to make it to states next year and to improve her times. After recovering from her inflamed tendon she would like to be able to run a sub 21 5k by her senior year.
She describes her states race as fun and a memorable experience she will never forget. To anyone who would like to achieve the goal of going to states she says, "I would say to them that there is only one way to make it this far, and that is to put in the work. Nothing in life that is worth it ever comes easy, and if you even ask my coach, he'd say that I am proof of that. My first practice in seventh grade made him think that I wouldn't even finish the run. But I have been training constantly over the past five years and I was able to go from barely even running a mile to running at the state level. Hard work always pays off."
Her biggest motivation while running is the ability to find a way to improve. There are also many people she looks up to in the sport of running. The top three she looks up to are, "…Abby LaBorde, Avry Grumblatt, and Amanda McCracken. They all graduated but have been a huge influence on me. Abby and I were never able to officially compete together because she was four years older than me, but I am always compared to her because our times are very close, and I hope to be able to make myself a role model like her to someone who's four years younger than me. Avry was a senior whenever I was a freshman. Her enthusiasm and positivity were endless, and I'll always remember how she made states that year. She was kind enough to write me a message before my state's race and it made me feel as if she was there cheering me on. Amanda has been my running partner until last year. This is my first year without her and it's been really hard because she was like an older sister to me. She went to watch me at districts and told me that she wanted to see me make it to states this year, and she ran around screaming and cheering for me the whole race. If she had not been there, I don't think that I would've had the motivation to make it to states."
Singleton wants to leave readers with one last notion, "If you or someone you know are looking for something to do in the fall, join cross country! It's the best decision I ever made for myself, and it is the most rewarding sport. I have made so many great memories and friends because of it and it helped me to become the person that I am today."