Ruby Singleton Achieves 100 Blocks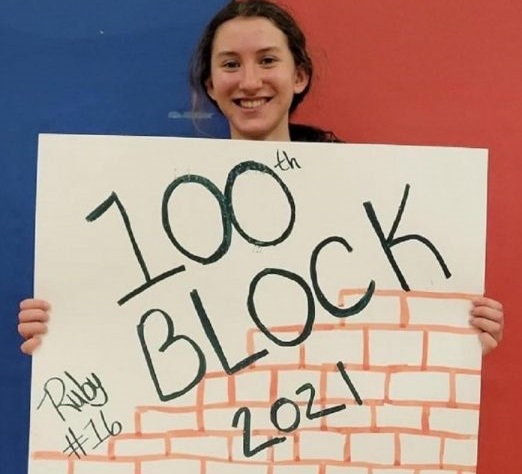 Ruby Singleton, a sophomore at Clearfield Area Junior-Senior High School, achieved 100 blocks this fall during volleyball season. Ruby Singleton has been playing volleyball for the past four years now. She found the sport of volleyball after losing her passion for soccer and wanting to try a new fall sport.
Her coaches describe her as a hard-working athlete. "We are very proud of Ruby; she works very hard at practice and that shows when she plays in the matches. Ruby is on track to set many records here at Clearfield, she is currently at 104 blocks and 330 kills as a sophomore. Ruby displays great leadership, determination and is a team player. The next couple of years watching Ruby will be very exciting," said Head-Coach Bailor.
Ruby enjoys the team aspect of this sport. She explains, "I like being part of a team sport because of the memories made, the opportunities for new friends, and it helps you discover who you are." Her favorite aspect of volleyball is surprising others and her least favorite is how late the games last.
Singleton explains that her biggest motivation for the sport is to be a reliable player and make her teammates proud. When she heard about achieving the 100-block mark, she was surprised. Singleton states, "I was shocked when I heard about achieving 100 blocks. I have never paid attention to the stats because it's just about playing the game and having fun."
Ruby's new goal is to get to 500 kills in the sport. When asked about what inspires her in the sport she explained, "There's no specific person that inspires me in volleyball, but I do like watching our Olympic team and Penn State's volleyball team."
Singleton wanted to leave readers with a heartening statement, "Keep working hard and toward your goals no matter how big they are. Make yourself proud."