A look into the future swim season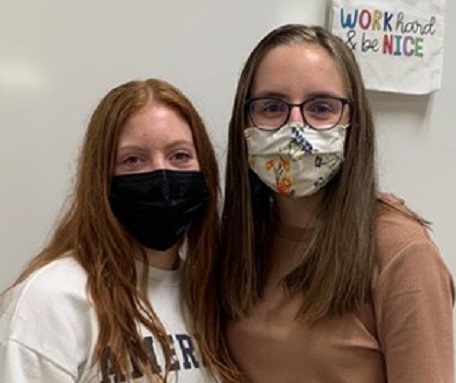 As the 2020-2021 swim season begins the swimmers have shared their goals and challenges for the season.
Emma Quick, a returning letterman, and Junior say's "My biggest team goal is for the girl's team to be Mountain League champs (this will be our 10th in a row so that would be a big achievement) and to ultimately have lots of fun together." Beth Struble and Danna Bender, also Juniors and returning lettermen agree that maintaining Mountain League champions and District titles is the goal.
Some challenges that Emma, Danna, and Beth agree there will be is handling the new freshmen on their opposing teams and having a lack of knowledge of them. But they are excited to have their own upcoming freshmen.
Emma says, "Everyone on the team is all supportive of each other but we all know that Coach Mo and our other coaches are ultimately the team's biggest support systems and provide us with so many opportunities and are always there. My parents for me are also a huge support system to get me through the winter season." Beth and Danna say that their teammates are their biggest supporters.
Danna reveals, "A personal goal is to try to really drop my 100 free times and see what I can do with it this year. This year we definitely plan to go to districts and hopefully keep our title and send as many as possible to states." Beth's goals are to win the 200 free at Districts and better her times. Emma's goals are to improve her time at every single individual event on the board. She adds, "Instead of overthinking my own individual race event I think it would be fun to 'mess around' and try to better my times across all of the events."
Beth's advice if anyone would want to join swim is to not be afraid to give it a try, she adds, that failure is okay because you will always have fun. Danna says that if you want to join swim you should do it right away because it takes some time to get the hang of it, but the coaches are very supportive. Emma says, "If you would want to join swim, I'd say think about the time commitment (with 6 practices a week) and effort into the sport you would have to put in over the next few months, and if you think you could focus on that and be good for the time then let any of the coaches know immediately."
Emma, Danna, and Beth explain that their practices typically last about 2 and a half hours after school, they stretch and do "dry-land" for a warmup and then go right into practice. Emma concludes with, "There's not much breathing time at practice."
The schedule for the 2021-2022 swim season can be found here.