Singing Your Fines Away is annual library treat
Fitting the theme of the end of the year being a season of giving and receiving, the Sing Your Fines Away tradition occurred prior to Christmas break. If the food drive was we students giving to our school so our school could support our community, then this tradition was our reward for doing so.
So, what is this tradition? Every year, the library hosts a little event where students may come to the library around Christmas time to sing so that any fines they owe to the library will be forgiven. In a world where technology keeps on growing and paper reading material is becoming less and less apparent, we must not forget the importance of books, and that includes everything that goes with them. This includes the fines for having a book due past a certain date.
The librarians went above and beyond this year to help students make up for what they owed by even including items brought in for the food drive as atonement for their fines. But how many people really had fines for this tradition that's been running for 12 years now and to be so pertinent to our school society? This school year's Sing Your Fines Away had a total of 99 participants, with a total of 97 fines being forgiven. 97 fines spread throughout 99 students may not seem like much but that totaled up to $98.65! Now, 97 fines for 99 individuals doesn't add up, and that's because you don't have to have fines owed to participate in this tradition. To add to this impressive monument, this is also the first time our library has hosted this event in several years due to complications from covid. That great of a turnout for a tradition that hasn't been held in several years is truly impressive.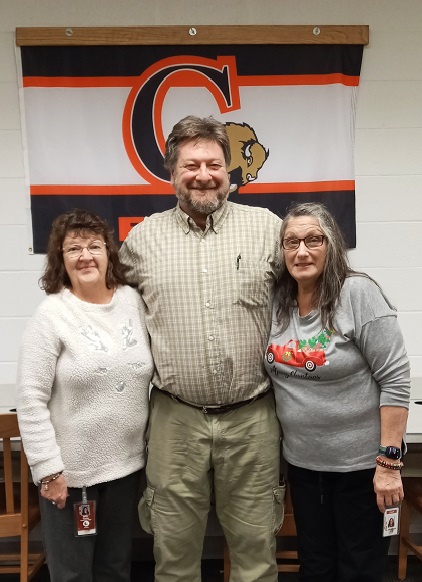 The newest member of the library staff, Mr. Way, was able to shed some light on just what this tradition is really all about. He made it clear that this tradition isn't just about helping students get rid of their fines, but it is also about promoting both generosity and the talented individuals of CAJSHS. Students can also sing to forgive fines for other students as well! It is just one of the great things at our school that promotes acts of kindness. So even if a student doesn't have a fine, they should still make an effort to participate in this tradition for various reasons, whether it be to just sing, to forgive someone else's fine, or to promote musical interest.
Overall, this is just one example of the many great things our library produces for us. It's more than just books to read, there is also the schedule for the activity bus for students after school. Another great benefit our library gives us is the math tutoring, which is covered in a separate article by a fellow Stampede writer. So when the next Sing Your Fines Away event becomes available, give it a try.