Student Finance Committee introduces new members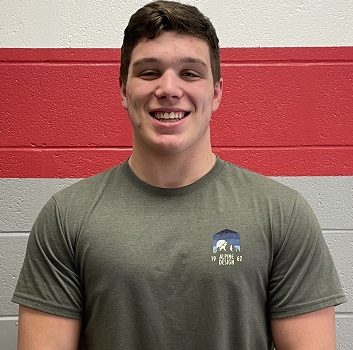 Have you seen the bison statue outside of the Clearfield Area Junior-Senior High School? That statue was purchased based on the decision and influence of the Student Finance Committee. This committee is a student-staffed party that is organized and run by the principal, Mrs. Prestash. It is composed of eight students, two per grade level (9th-12th), and there is a male and female from each grade.
Due to the COVID-19 shutdown in the 2020 school year, and the continuation of the 2019-2020 pandemic last year, no new members were introduced then. This year the current members, are as follows: Seniors, Hayden Kovalick, and Jayden Strathen. Juniors, Isaac Samsel, and Emma Quick, and 4 new members of the sophomore and freshmen class: Sophomores, Carter Chamberlain, and Olivia Rowles. Freshmen, Ty Aveni, and Zoie Sidorick. The officers for the 2021-2022 school year are, President- Jayden Strathen, Vice President- Hayden Kovalick, Secretary- Emma Quick, and Treasurer- Isaac Samsel.
According to Mrs. Prestash, the purpose of this committee is to "assess the needs of the school and determine what the club can do to help with repairs, beautification, and needs of the school to the benefit of the student body." Some examples of things the money may go to are something small like benches on the grounds and like the Bison statue, states Mrs. Prestash. The Bison statue represents "a long-standing item of pride for all students and alumni."
The decisions are mostly made by the students Mrs. Prestash explains, "Items selected, and decisions come from the students. The advisor is there to guide the committee in the best interest of the school. The committee and the advisor work together giving input/suggestions and discussing the items." In addition, senior vice-president, Hayden Kovalick, expresses he enjoys making decisions for the good of the school. However, it is challenging to make decisions that will be best.
Personally, Mrs. Prestash feels it is rewarding to be working with students, especially when it comes to improving the school. Vice president, Hayden Kovalick, also enjoys this as he explains he feels like the impact he makes is a very positive one. This also allows her, and the members of the committee, to interact with the student body to think of ideas. The committee is currently working on new ideas, and they plan on sending out a poll that will help get input from the students. Mrs. Prestash wants the students to know the officers, and to talk to them if there are good ideas to beautify the school.