Cole Miller nets 1,000 points as a junior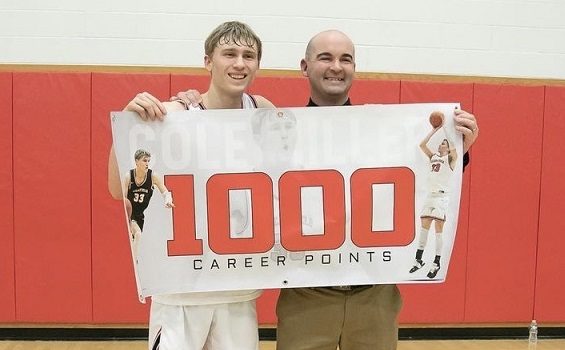 On February 14, a home basketball game secured Cole Miller with his 1,000-point mark. He only needed 12 points to reach the milestone and had got 10 points fairly quick into the game. He hit 1,000 points exactly after receiving the ball near the left side of the basket and making a short jump shot off the glass. Not only is he the 12th player from Clearfield to do this, but he did this as a junior putting him on track to possibly break the record. I asked Cole some questions to get his input on how this accomplishment influenced his life.
Q: How does it feel to reach 1,000 points as a junior?
Cole: "I am definitely appreciative of this opportunity because I know not too many people get to reach this milestone. It really is an honor."
Q: What helped you achieve this goal?
Cole: "My family has helped me every step of the way to become the player I am. This accomplishment represents a thank you to them for all of their time and effort they put into me."
Q: Did you expect to reach this milestone as a junior?
Cole: "I had really hoped I would hit it. Luckily, it happened to be in God's plan for me and I thank Him for it."
Q: How does it feel to be only the 12th player to do this from Clearfield?
Cole: "1,000 points doesn't happen too often, so to be the 12th person is truly awesome. Thankfully, I got to learn some things from playing with 2 other 1,000-point scorers, Cade Walker and Karson Rumsky."
Q: What were your thoughts before going into the game?
Cole: "I was extremely nervous, as mostly anyone would be. I just asked God for peace and strength, and He did the rest for me."
Q: Who has supported you the most throughout your career?
Cole: "Without a doubt, my mom and dad. I don't know too many dads who rebound for their son late on a Tuesday night, and my mom is always there to take my focus off the stress of basketball and center it on all of the wonderful things in my life. I am proud to be their son."
Q: What advice would you give to the other players hoping to achieve this goal?
Cole: "Never let anyone tell you what you can and can't do. If you stay in the gym, and trust in God, you have a chance to reach this milestone. Believe in yourself."
Q: Do you plan to play basketball in college? Any specific school?
Cole: "I do. This summer I plan to reach out to many colleges in hopes of receiving a scholarship potentially in the future. I am not too sure where they may be, but I know everything will happen as it is supposed to."
Bison Basketball head coach Nate Glunt adds: "Cole scoring over 1000 points during his junior year is an outstanding accomplishment.  He has worked extremely hard at becoming a fantastic basketball player.  He works year-round with the team and spends extra time on his own fine-tuning his skills working to become the best player that he can be."