Avatar 2: The Way of Water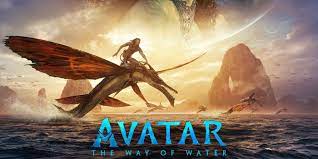 If you haven't watched the first film that was released back in 2009, Avatar follows the character Jake Sully, a paralyzed former marine, as he accepts his twin brother's role in an experimental practice on the alien planet Pandora. Jake quickly becomes engrossed in the world of Pandora and the Navi culture. In this movie, he struggles between the choice of his old life as well as career, and his life on the planet of Pandora.
For the past 14 years, Avatar has held the spot for the highest grossing film of all time, earning over $2.9 billion dollars since its release. The Walt Disney Company has even recreated the world of Pandora within Animal Kingdom. The company did its best to recreate the floating islands, environment, and even the creatures within the movie. The Walt Disney Company has brought millions of people into the fictional world of Pandora, creating a huge fanbase that awaited the promised sequel to the film. It was a surprise to many people when Avatar 2: The Way of Water was announced with the release date of December 16, 2022. Even with its large fanbase, a great deal of the public forgot about the movie and its awaited sequel.
For how long the movie took to produce and direct, I would say it did not disappoint. Avatar 2 it set 15 years in the future, and in this time Jake and Ney'tiri have formed a family. But even with the hopeful ending of the first film, the Navi are still bothered and hunted by the human species who are trying to overtake their environment. It becomes so hostile that Jake and his family flee to the water-dwelling tribe of Metkayina in hopes of alliance and safety.
Even though the film was a hefty three hours and twelve minutes, I never found myself bored. The performances of the characters and the newly introduced environment that surrounds the water-dwelling tribe of Metkayina constantly kept me engaged and intrigued with the plot. If you have not seen this movie yet, I would highly recommend you seeing it in 3D. The visual effects showcased within a regular theater are outstanding, but it is a whole other experience watching Avatar 2: The Way of Water in 3d or IMAX. If anyone is still interested in watching the newest Avatar sequel, it is still playing in many local theaters like Golden Ticket Cinema in Dubois.
"Everything to Know to Watch Avatar: The Way of Water." DVDFab, www.dvdfab.cn/downloader/watch-avatar.htm. Accessed 16 May 2023.