Mrs. Adams' art class continues staying artistic during a pandemic
Today we are focusing on Mrs. Adams' art class. Due to COVID-19, we were back to virtual learning. However, this did not stop Mrs. Adams art class from staying artistically inclined. Mrs. Adams gives some insight on what is happening behind the showcase.
Q: What interesting projects are your students working on in your virtual classes?
Mrs. Adams: "We have been doing several different art projects during our virtual school days and the virtual shutdowns.  Some projects include Zentangles, illuminated letters (decorated initials), Op Art, dancing elf figures, greeting cards, shrinky dinks and intro to Photoshop projects on a website called photopea.com."
Q: What do your students have to do to complete the projects?
Mrs. Adams: "It varies from project to project.  Students have used a range of materials from Sharpies to colored pencils, watercolors, and crayons. And we have used a variety of techniques which are project specific."
Q: What will they learn from this?
Mrs. Adams: "Hopefully, students will learn some self-discipline and motivation techniques.  It is important in life to be able to adapt to whatever situations and circumstances are thrown your way and do your best whether it is something that you like or not.  I am hopeful that the art projects they have been given are ones that are enjoyable and can mean something to them."
Q: What challenges are there to teaching art class virtually?
Mrs. Adams: "The biggest challenge to teaching art class virtually is not being able to watch students' progress in person.  So much of teaching a successful art class relies on watching what students are doing and providing feedback and critique to help them improve their skills along the way.  When we are virtual, it is extremely difficult to do this."
Q: How do students get the supplies they need for class?
Mrs. Adams: "At the beginning of the school year, students were sent home art kits with various art supplies and paper in anticipation of a possible shut down.  They were also able to take home project specific materials when we were in person for classes."
Q:  How are your students doing working from home?
Mrs. Adams: "Ok, some better than others.  Working independently without feedback along the way hinders being able to improve skills and produce the best art projects possible.  My highly motivated and self-disciplined students are doing a wonderful job!!!"
Q: What else would you like our readers to know about your virtual art classes?
Mrs. Adams: "I am glad for technology and being able to see students' artwork, but no doubt in-person learning is the best for art!  This whole situation has made me very thankful for the in-person interactions and relationships I am able to build as a teacher."
About the Writer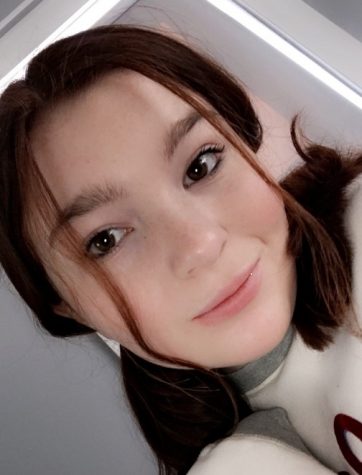 Nadia Libreatori, Staff Writer
I am in 9th grade at the Clearfield Area Jr-Sr High School. Outside of school I enjoy competitive dance at Starlettes School of Dance. My future plans...