Teachers are facing changes in the classroom
A lot of changes had to be made in the classrooms this year due to Covid-19. Mrs. Fye, who teaches tenth grade chemistry, gives us some insight about the way she has shifted her curriculum for her students. She also talks about some of the challenges that she must face to make this type of learning work. Usually, labs would be done in the classroom, now they must be shifted into virtual labs. Mrs. Fye has not been the only one to face these challenges. Teachers across the school have had to change the way their class operates for the safety of their students. She also touches on the subject that students must keep working hard in these challenging times as they will be faced with obstacles for the rest of their life.
Q: What is the hardest thing about trying to keep students involved while teaching?
Mrs. Fye: "One of the more difficult challenges keeping students involved while teaching during this school year is the Hybrid-Model (Group A & B) when the other group is supposed to be completing their virtual lesson.  It is challenging to manage, instruct, assess not only the students in a face-to-face setting but those students who are in front of a computer screen."
Q: What is the biggest change you had to make?
Mrs. Fye: "The biggest change I had to make this school year is adapting a chemistry curriculum from a laboratory setting into a virtual setting.  Trying to develop and implement simulations and virtual labs has been quite a change and a challenge."
Q: What class do you teach?
Mrs. Fye: "I teach mostly sophomores Chemistry."
Q: What is the one thing that you are not allowed to do now?
Mrs. Fye: "Teaching during a pandemic requires following COVID-19 protocols and procedures.  One of the aspects to these protocols was changing my classroom environment from collaboration groups to individual seats in rows.  This change is due to students being socially distanced by six (6) feet, since they are in the classroom longer than fifteen (15) minutes."
Q: How have you changed the way you teach? if at all.
Mrs. Fye: "I have not changed my pedagogy (teaching techniques) at all; however, I have made adaptations to different lessons in order to meet the needs of students in a Hybrid-Model."
Q: Do you think that the students are adapting well?
Mrs. Fye: "Just like in a regular/normal school year, some students do better than others, whether those characteristics are academically, socially, or behaviorally.  Overall, I believe most students are adapting well to the challenges that they face during this school year."
Q: What is one thing that you wish you could still do in the classroom?
Mrs. Fye: "I wish students were able to sit in collaborative groups in the classroom setting."
Q: As a teacher, what is the hardest part of your day?
Mrs. Fye: "The hardest part of my day is planning for students who are physically in class, planning for students who are virtual, prepping labs for students who are in class, creating virtual labs/simulations on virtual days, and grading assignments in TEAMS then transferring the grade into Sapphire.  Not only doing these tasks are hard and time consuming, but answering e-mails/chat message from students and parents throughout the school day."
Q: What else would you like the readers to know?
Mrs. Fye: "I would like the readers to know that it is okay to be challenged and to learn from academic discourse.  Being resilient, determined, and persistent are traits in which they need to acquire in high school that will only help them as they go through life."
About the Writer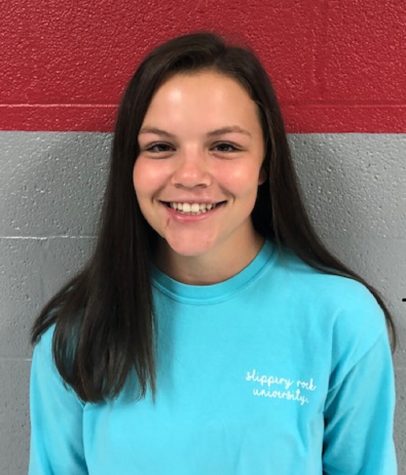 Christina McGinnis, Staff Writer
My name is Christina McGinnis. I am a Junior at Clearfield High School. I am involved in golf and  this year is my third year as a member of the Golf...