Students Paint Holiday Cheer on Downtown Windows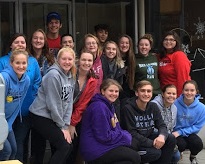 The students of Clearfield High have been busy lately providing more color to the streets of Clearfield by painting some windows in downtown stores.
Visit this link to see photos of the windows.
According to Mrs. Adams, art instructor, more than 20 students painted holiday scenes on these businesses: Moena's, Zalno's Jeweler, Spanky's Courthouse Cafe, Henry & Co., Neeper's Sweet Treats, Clearfield Municipal Authority, Clearfield Pharmacy, Cinderella's Boutique, Grice's Gun Shop, Bob's Army and Navy, Express Cafe, Thompson and Buck, and Jim's Sports Center.
Here is the list of the students selected to paint the town: Makeeli Redden, Mindy Flemming, Onyx Libreatori, Kyler Rosinsky, Haley Owens, Laney Hudson, Abby Fedder, Erica Hanes, Zach Hess, Madison Hubler, Reagan Mikesell, Talitha Narehood, Rileigh Lonjin, Madyson Oswalt, Madison Kisamore, Alexis Mayhew, Jenna Soult, Landon Cross,Tessa Miller. An amazing group of students, all super talented and creative.
Mrs. Adams says: "The purpose of the window painting was to showcase the talent of CHS art students, and build relationships with the community, as well as provide a community service and have a little fun." She added: "We are extremely proud of what the students accomplished in such a short time and love the positive feedback we have received from the public! We love this project and are looking forward to working together with local merchants and the Clearfield Revitalization Corporation next year."
Mrs. Adams said she is very impressed with the level the students worked at. If you were wondering, students used tempera paint because it was available to them, and this all took place during one school day.