Wilsoncroft crowned at Homecoming 2019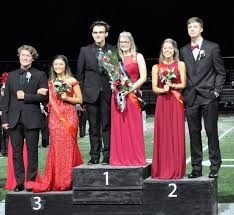 On Friday, Sept. 13, the Clearfield Area Junior-Senior High School celebrated yet another year of homecoming. When looking back on the following years, homecoming court has consisted of eight solid contestants. However, with a tie the 2019 court had a twist. The 2019 homecoming court consisted of nine outstanding, bright contestants. In alphabetical order the court was as follows: Ellen Collins, Madilyn Domico, Avry Grumblatt, Anna Hale, Adrian Rowles, Bella Spingola, Taylor Trinidad, Alyssa Twigg, and Kimberly Wilsoncroft.
On that Friday fans hurried into the stadium and found their seats. Although, while sitting down on those chilly tough bleachers some may  have wondered who makes homecoming possible each year? Mrs. Borden, the club advisor of Student Council, and the club itself is who everyone can thank for putting the time and effort into making homecoming spectacular. But how much preparation goes into making homecoming spectacular? "Student Council spends about a month creating and assembling decorations for in the school, the football field, and at the dance. In addition, homecoming is all student-fundraised, so we raise the money for homecoming to take place," states Erika Frye, Student Council President.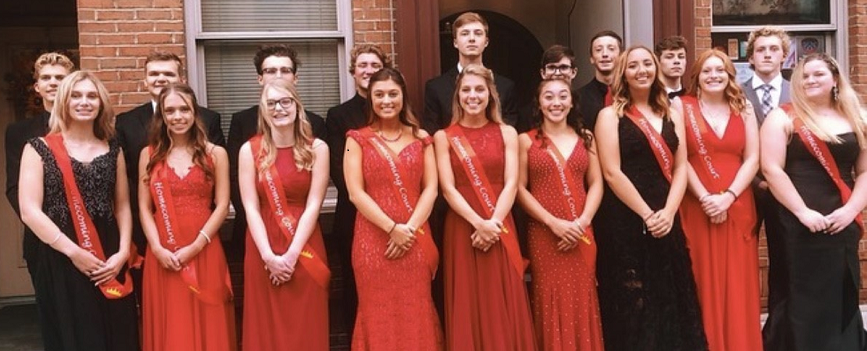 As the Clearfield Bison Football team continued to tackle the Huntingdon Bearcats, they would reach halftime with a score of 14-10 Clearfield. As the Clearfield Bison began to exit the field, the ceremony began. The crowd sat eagerly in their seats waiting to hear who would be announced the 2019 Homecoming Queen. "Now the moment you have all been waiting for" came over the loudspeaker. Moments after the winners were announced.
Second Runner Up: Bella Spingola
First Runner Up: Avry Grumblatt
2019 Homecoming Queen: Kimberly Wilsoncroft
In a time of celebration, the crowd and the court cheered with excitement for our 2019 Homecoming Queen, Kimberly Wilsoncroft. "When I heard my name being called over the loudspeaker, I was overwhelmed with emotion. I remember thinking at first 'no way', and I looked over at Cruz, my escort. I looked at him out of shock, although I was very honored and excited to be announced homecoming queen, I definitely was not expecting it! I felt a rush of emotion, gratitude, and honor. I even let out a few tears, but I quickly had to put them to a halt because my glasses started to get foggy!" states Kimberly Wilsoncroft.
High school is a time for making friends, laughter, and most importantly the memories. Senior year is a time to look forward to all the amazing things coming your way. On Friday, Sept. 13, a group of nine seniors got to experience a moment that they will never forget. Our queen, Kimberly Wilsoncroft states the following, "It was an amazing experience being on homecoming court, and definitely one of my favorite high school memories to date. It was an incredible honor to be nominated by my fellow classmates, and it was an eye-opening experience for me to realize the love and support that I have, and that I am surrounded by every day. I also enjoyed spending time and building better friendships with every other girl who was also nominated on homecoming court alongside me."
Homecoming is an experience that one could never forget. Four years goes by in a blink of an eye, so with that being said, soak in every second, root to be on homecoming court and never forget to smile. A group of nine seniors could easily say that being on homecoming was one of their best high school memories, and it was a memory they could never forget.