Giving to the needy is holiday tradition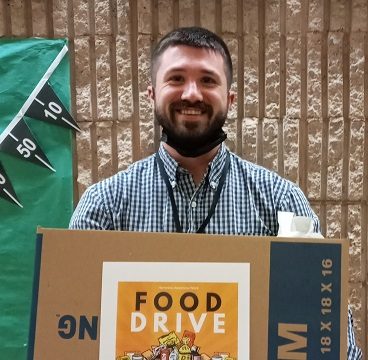 We are past the time of giving thanks and moving onto giving gifts, the months of giving it could be called. But before Thanksgiving, before Christmas, there is another time of giving, the giving of food. November 15th until November 19th is known as Homelessness Awareness Week. Our school, during this week, holds a food drive to donate food to local food pantries and people in need. This food drive benefits many families and is a positive beacon for many communities.
Every year, an estimated 40 million individuals are supported throughout the country during Homelessness Awareness week. Clearfield may be a small town, but every little bit helps. As stated by Mr. Bryan, school counselor, it's always good for people to give back to their community in a time of need. This food drive is not only beneficial to our community but, as beautifully stated by Mr. Bryan, it can also raise awareness to people who are in need as well as teaching a life lesson to those participating about perspective. So, what is this food drive?
During the week of Homelessness Awareness Week, students are able to bring in canned goods and non-perishable food items that will be donated the following week. These food items could be anything from some pancake mix to a can of peaches. Perishable food items such as meat are not accepted and should not be brought in. The food drive is hosted by the administration and counseling staff at both the elementary school and high school, according to Mr. Bryan.
The goal of this as said by Mr. Bryan is to see which school can bring in the most food items. The competition is a sort of incentive to bring in the most food items.
Overall, the food drive is a staple in not only our community but also in our school. Every little bit of food our school donates goes towards a good cause that helps someone in need. It takes place before the day of giving thanks, so give yourself something to be thankful for and help someone in need out.